Welcoming entry
Adding warm colours and interest to the walls lets visitors see your style
Dining window seat
Cosy reading nook by the dining table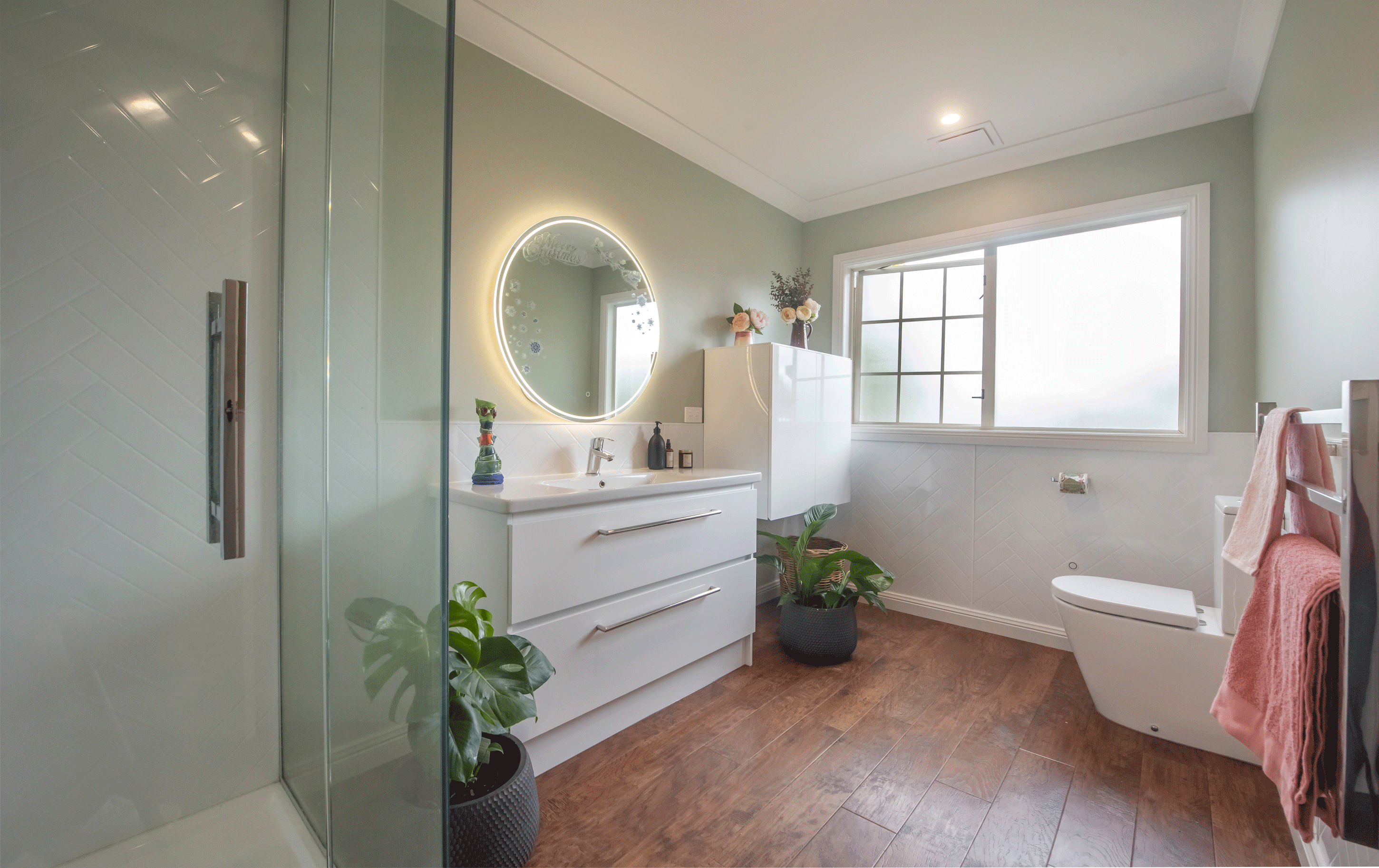 Bathroom plants
Bathrooms benefit from plants, they help clean the air and reduce humidity
Welcoming entry
Adding warm colours and interest to the walls lets visitors see your style
Our client was going through several major life events including a change of relationship status and a health crisis in the months prior to the 2020 Covid-19 lockdown.
This influenced our design proposal to focus on creating a warm, nurturing, and homely environment, while remaining practical and timeless, and suited to family life. We wanted to support physical and emotional wellbeing.
The ceilings are painted a warm undertone as opposed to a stark white which creates a glow throughout the home.
As our client loves to bake and decorate cakes for her family and friends, which is also a form of self-care, we combined multiple colours, and textures in this open-plan kitchen so the heart of the home encourages creativity.
We used "Porters – Polo" in the games room knowing that shades of blue represent strength, reliability, and dependability, as this room is where family and friends come together to make new memories in this challenging time.
A sage green palette was chosen for the bathrooms to reflect the main colour seen in nature. This colour evokes a feeling of relaxation, balance and harmony, resonating with this family's journey and focus for health between the body and mind.
In the bedrooms, we sought to create a nurturing oasis for each person and balance between light and shade. The teenage boy's room utilises the colour "Black" to create a masculine haven, while the teenage girl's room utilises warm white and soft textures to create a peaceful and feminine retreat. In the master bedroom, we combined patterns, fabrics, and neutral colours to create a zen, calming space.
The overall effect is a nurturing and calming home tailored to the bespoke needs of this family, while remaining timeless and elegant.